Are you looking to switching your domain from GoDaddy? , yes it is the right guide to help your transfer.
Get up to 20% off when you transfer.
No one place like Namecheap to provide such offer
No Hidden Fees on Transfer your domain, you really enjoy a transparent
payment process with easy of access.
Domain Name Server:
While transfer the Domain from godaddy , nameserver (DNS) will not change .
That's why your Domain Will Not Down for any reason
Untill you change the domain name for our dns.
This domain should have been registered or transferred at least 60 days ago
at the current time, the domain should be unlocked
Steps to Do for Transfer in Godaddy :
Once you logged in your godaddy account
go to my products
Firstly Click the domain which you want to transfer

Domain name is locked for unwanted domain name transfer
Change the Domain name to unlock
click the Off radio button next to Lock
Authentication Code :
it is code generated for validating the authenticated domain name transfer from the account.

Go to Domain Settings and can see the domain Transfer related Settings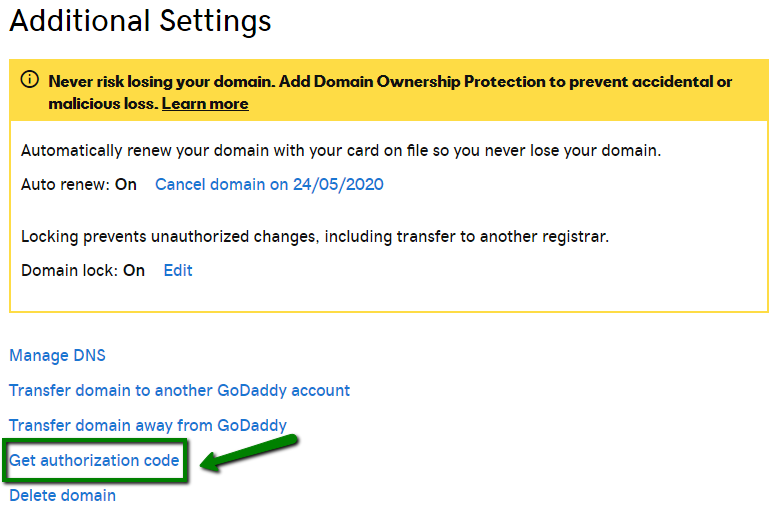 you have to get an Auth Code from GoDaddy
AUTH Code sent your registered email account.
While, you will need to make sure that the domain is unlocked.
Steps to Do in Namecheap Account :
As soon as you receive your Auth Code and the domain name is unlocked.
you can begin the transfer to Namecheap
Having placed the transfer request and entailed the transfer process at the registry
To make process, you should be able to accept the transfer on GoDaddy's account side
Sign in to your Account Manager
Click Manage under Domains
Select Transfers from the Domains menu
Select Pending Transfers Out and select the domain name(s) you wish to transfer out of GoDaddy
Click Accept and click OK.
The request will be processed within 15 minutes.